Lathyrus angulatus L.
Distribution in Italy: Piemonte, Lombardia, Veneto, Liguria, Emilia-Romagna, Toscana, Marche, Abruzzo, Campania, Calabria, Sardegna




Lathyrus angulatus L.
Distribution in Europe



Lathyrus angulatus L.
Distribution in North America
USDA, NRCS. 2009. The PLANTS Database (http://plants.usda.gov, 24 June 2009). National Plant Data Center, Baton Rouge, LA 70874-4490 USA.


TAXONOMY

Kingdom / Regno: Plantae
Subkingdom / Sottoregno: Tracheobionta
Superdivision / Superdivisione: Spermatophyta
Division / Divisione: Magnoliophyta
Class / Classe: Magnoliopsida
Subclass / Sottoclasse: Rosidae
Order / Ordine: Fabales
Family / Famiglia: Fabaceae

Genus / Genere: Lathyrus

Species / Specie
(Select a species and click on Ok)
---

Messaggi:


Benvenuto, visitatore! Vuoi lasciare un commento?
PLANT PROFILE:
Rank: species
Status: accepted
Nomi comuni / Common names



Italian name / Nome italiano: Cicerchia angolosa

English name: Angular Pea


U.S. name: Angled Pea


French name: gesse anguleuse


Spanish name: pluma de angel


Portuguese name: cizirão-de-folhas-estreitas


German name: Eckige Platterbse
---
Forma biologica: T scap (Pianta erbacea annuale, con portamento eretto)
Periodo di fioritura: V-VI
Altitudine (min/max): 0/1000 m.
Tipo corologico: NW-Steno-Medit.

Synonyms / Sinonimi: Lathyrus hexaedrus Chaub

Images / Immagini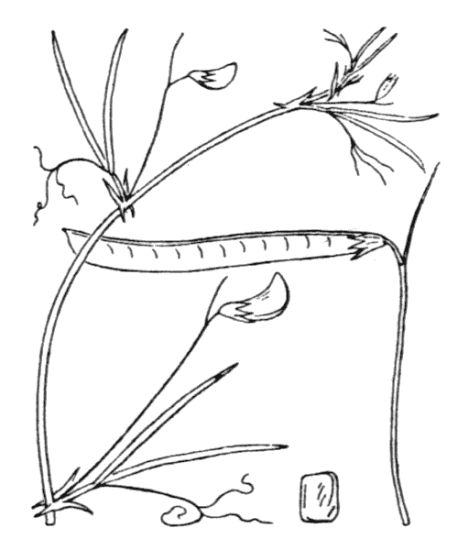 Lathyrus angulatus L. (Angular Pea)
Hippolyte Coste - Flore descriptive et illustrée de la France, de la Corse et des contrées limitrophes, 1901-1906 - This image is in public domain because its copyright has expired.

More information / Altre informazioni
---
BIBLIOGRAPHY AND WEB SITES:
- Pignatti S. - Flora d'Italia (3 voll.) - Edagricole - 1982
- Tutin, T.G. et al. - Flora Europaea, second edition - 1993
- Zangheri P. - Flora Italica (2 voll.) - Cedam - 1976
- Euro+Med PlantBase - The information resource for Euro-Mediterranean plant diversity. Published on the Internet http://ww2.bgbm.org/EuroPlusMed/
- Il cercapiante - Images and local names of vascular plants - Project Dryades/KeyToNature, coordinated by the Department of Life Sciences, University of Trieste - http://dbiodbs.units.it/carso/cercapiante01
- Acta Plantarum - The Italian Flora - http://www.actaplantarum.org/