Alisma gramineum Lej.
Distribution in Italy: Valle d'Aosta, Piemonte, Lombardia, Trentino-Alto Adige, Veneto, Emilia-Romagna




Alisma gramineum Lej.
Distribution in Europe



Alisma gramineum Lej.
Distribution in North America
USDA, NRCS. 2009. The PLANTS Database (http://plants.usda.gov, 24 June 2009). National Plant Data Center, Baton Rouge, LA 70874-4490 USA.


TAXONOMY

Kingdom / Regno: Plantae
Subkingdom / Sottoregno: Tracheobionta
Superdivision / Superdivisione: Spermatophyta
Division / Divisione: Magnoliophyta
Class / Classe: Liliopsida
Subclass / Sottoclasse: Alismatidae
Order / Ordine: Alismatales
Family / Famiglia: Alismataceae

Genus / Genere: Alisma

Species / Specie
(Select a species and click on Ok)
---

Messaggi:


Benvenuto, visitatore! Vuoi lasciare un commento?
SCHEDA BOTANICA / PLANT PROFILE:
Rank: species

Nomi comuni / Common names



Italian name / Nome italiano: Mestolaccia sottile

English name:


U.S. name: Narrowleaf Water Plantain
---
Forma biologica: I rad (Pianta erbacea perenne, acquatica, con radici che la ancorano sul fondo)
Periodo di fioritura: VII-VIII
Altitudine (min/max): 0/300 m.
Tipo corologico: Euro-asiat.

Synonyms / Sinonimi: Alisma graminifolium Ehrh.; Alisma arcuatum Michalet

Sottospecie:
Alisma gramineum Lej. subsp. gramineum



Images / Immagini

Alisma gramineum Lej.
USDA-NRCS PLANTS Database / USDA NRCS. Wetland flora: Field office illustrated guide to plant species. USDA Natural Resources Conservation Service. - Not copyrighted image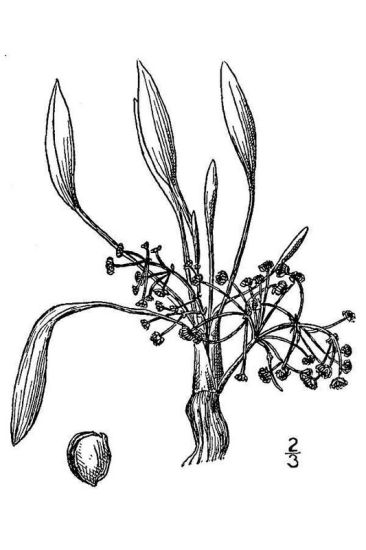 Alisma gramineum Lej.
USDA-NRCS PLANTS Database / Britton, N.L., and A. Brown. 1913. An illustrated flora of the northern United States, Canada and the British Possessions. Vol. 1: 94.

More information / Altre informazioni
---
Generi delle
Alismataceae
:
BIBLIOGRAPHY AND WEB SITES:
- Pignatti S. - Flora d'Italia (3 voll.) - Edagricole - 1982
- Tutin, T.G. et al. - Flora Europaea, second edition - 1993
- Zangheri P. - Flora Italica (2 voll.) - Cedam - 1976
- Euro+Med PlantBase - The information resource for Euro-Mediterranean plant diversity. Published on the Internet http://ww2.bgbm.org/EuroPlusMed/
- Il cercapiante - Images and local names of vascular plants - Project Dryades/KeyToNature, coordinated by the Department of Life Sciences, University of Trieste - http://dbiodbs.units.it/carso/cercapiante01
- Acta Plantarum - The Italian Flora - http://www.actaplantarum.org/